Episodes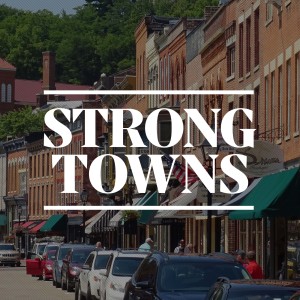 Monday Mar 13, 2023
Monday Mar 13, 2023
We believe everyone can build a Strong Town, but all too often, political differences divide communities, and instead of working together to build stronger neighborhoods from a bottom-up approach, we get caught up in contentious, top-down ideas and conversations. 
One such political divide has developed around the concept of the 15-minute city: a term used to describe traditional neighborhoods. While to urbanists it describes a walkable place, to critics, it's a potential infringement on personal freedoms. In this episode of the Strong Towns Podcast, Chuck Marohn dives into the controversies surrounding the 15-minute city.
ADDITIONAL SHOW NOTES
Comments
(3)
To leave or reply to comments, please download free Podbean or
New to this podcast, 40+ minutes into the 15 minute city (?) ep & really not hearing anything about them yet LOL. Heard a lot of bizarre impressions of reality tho', was good for a few laughs.
It's juvenile to even recognize the dichotomy of progressive vs. conservative in the first place. It's a conspiracy by the ruling class in and of itself to sow discord and divide and conquer. So catering to this concept, by identifying yourself as a conservative, which you're not, and conflating "conservatives" with idiots who believe anything just upholds real conspiracy. Yes, the ruling class conspires. That's why we need to get rid of class. How do you do that? Get rid of nation states.
Wow! Thanks so much for sharing your thoughts on this topic. It was very insightful and encouraging. Keep up the good work! 🙂