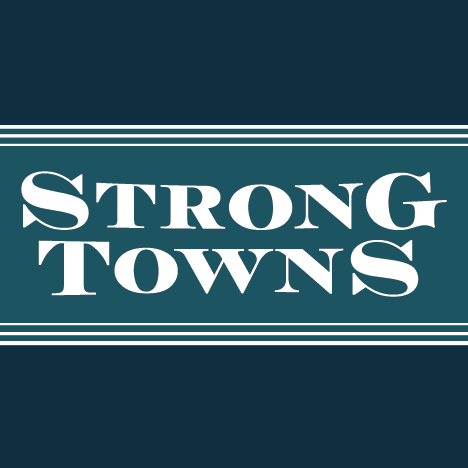 This is our ninth dispatch from the Congress for the New Urbanism (CNU), which took place in Savannah, Georgia in May. Chuck Marohn attended CNU and hosted a series of in-depth podcast conversations about some of the most pressing topics for cities today, with leaders, thinkers, and activists in a whole range of fields. Now we're bringing those podcasts to your ears throughout the summer.
In this episode, Chuck has a chat with three good friends: Joe Minicozzi, Cate Ryba, and Josh McCarty from the geoanalytics firm Urban3, based in Asheville, North Carolina. Chuck and Joe's "bromance" (their words) goes back years, and Strong Towns and Urban3 have been frequent collaborators in sharing data-backed insights about where your town (yes, yours!) is really deriving its wealth from, and where it's losing money.
Among the questions discussed (but not always answered) in this entertaining, freewheeling discussion:
What happened when a wealthy town on Cape Cod had a $250 million backlog for upgrades to its sewer system?
The range of reactions—from positive to negative to disbelief—that Chuck and Joe get when they present their findings to cities across the country.
The "diamond mine" effect experienced by cities like Asheville, which are sitting on traditional downtowns built by their ancestors. These places are often tremendously fiscally productive, but what happens when a city doesn't nurture that productivity, but instead views the downtown as a source of wealth to be extracted to pay for a money-losing development pattern elsewhere?
What do civic officials and Melanesian cargo cults have in common?
What is the mental block that keeps us from embracing more productive forms of development, even when they're right under our noses? Savannah, Georgia has a historic district that is the envy of urban planners the world over—and a jarring transition when you leave that historic district and venture into the rest of the city. "We collectively agree that this is awesome," says Chuck of the beloved core of Savannah, with its leafy squares. And we have the analysis of groups like Urban3 to tell us that not only is it beautiful, the development pattern of Savannah's original core is a tremendous wealth-generating engine. So why aren't we doing more of it, even literally in Savannah?
What lessons do behaviorists have to teach city planners? Temporal discounting—placing more value on avoiding short-term discomfort than preventing long-term suffering—is the reason it's hard to get people to quit smoking. Is it also the reason it's hard to get cities to give up insolvent development patterns? Do we already, proverbially, have cancer by the time we realize what we've built is bankrupting us?
The responsibility of professionals like those at Urban3 to help elected officials work through and understand complex issues, instead of assuming that what's obvious to those immersed in the numbers daily will be obvious to them.
Can we truly make meaningful change in how our cities do things in the absence of a crisis to force our hand?
What mind-blowing data visualization projects is the Urban3 team cooking up next?
Will Joe Minicozzi ever stop cursing during staff meetings?
Who will publish a book first: Chuck or Joe?